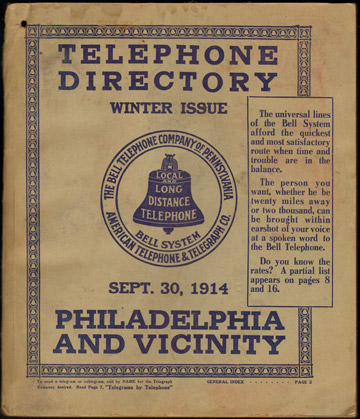 Philadelphia and Vicinity 1914 Telephone Directory
Includes a wide range of Pennsylvania towns near Philadelphia including: Allentown, Ambler, Berwyn, Bryn Mawr, Camden, Chester, Coatesville, Collegeville, Conshohocken, Devon, Dover, Downington, Doylestown, Georgetown, Gloucester, Germantown, Hatboro, Hatfield, Lansdale, Lansdowne, Malvern, Newtown, Norristown, Pottstown, Souderton, Swarthmore, Tioga, Trenton, West Chester, Wyoming plus, many, many more locations.
This is the Sept., 30, 1914 Winter Issue
367 pages of Philadelphia telephone listings in triple columns plus 231 pages of triple column telephone listings for outside of Philadelphia.
A total of 600 of pages with tens of thousands of telephone listings from across the region. Large format directory pages measure 9.5 x 11".
Cover soiled, first ad page stained. Inside pages are clean with light age toning.
Soft cover, 600 pages.
Speedy shipping!
We will ship your order within 24 hours of receiving your payment (on first business day if received on weekend or holiday.) Shipping cost is only $1.95 for the first book or CD/DVD and only 25 cents shipping for each additional book or CD/DVD purchased.
How to order:
Sorry, this book is sold
Additional printed County History books available
Thousands of free family biographies and vintage county maps are available