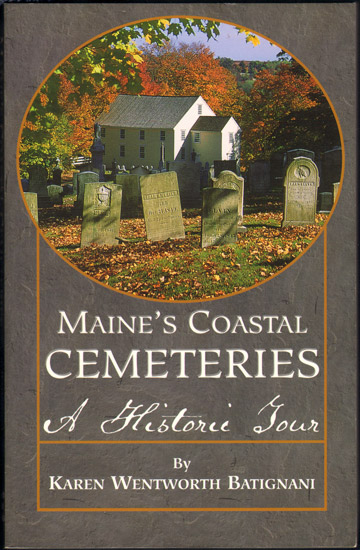 Maine's Coastal Cemeteries, A Historic Tour
By Karen Wentworth Batignani
Published 2003 by Down East Books.
Essentially as new. Cover and inside pages are nice and clean.
From the back cover:
"It is a well-kept secret that people love cemeteries," says Karen Batignani, "and the interest in them is growing rapidly." In this guidebook, she presents thirty-eight of Maine's most beautiful, historic, and interesting coastal cemeteries, each described in a lively and informative way. Descriptions include their locations, as well information about unusual epitaphs, notable carvings, historically relevant details, folklore, and stories about well-known stonecutters, prominent people, and war veterans. She also delves into a brief history of New England graveyards, changes in headstone styles through time, and how those styles reflect changes in cultural attitudes toward death. She even includes advice on graveyard etiquette and photography tips. This guide is indispensable to anyone interested in graveyards, graveyard art and photography, or history; and it's a perfect way to discover some less well-known places to visit in Maine."
Soft Cover, 215 pages.
Speedy shipping!
We will ship your order within 24 hours of receiving your payment (on first business day if received on weekend or holiday.) Shipping cost is only $1.95 for the first book or CD/DVD and only 25 cents shipping for each additional book or CD/DVD purchased.
How to order:
Sorry, this book is sold
Additional printed County History books available
Thousands of free family biographies and vintage county maps are available