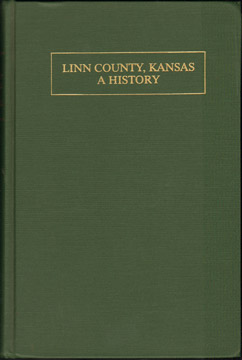 Linn County, Kansas: A History
by William Ansel Mitchell
Originally published in 1928, this is a 1987 reprint edition by Linn County Historical Society, Pleasanton, Kansas
Very nice condition, essentially as new. Slight cover corner bumps.
Numerous individuals are mentioned within the text but no biographies are included.
Inside back cover includes a map of Linn County showing towns, townships, locations of key events.
Hardbound, 404 pages
Speedy shipping!
We will ship your order within 24 hours of receiving your payment (on first business day if received on weekend or holiday.) Shipping cost is only $1.95 for the first book or CD/DVD and only 25 cents shipping for each additional book or CD/DVD purchased.
How to order:
Sorry, this book is sold
Additional printed County History books available
Thousands of free family biographies and vintage county maps are available