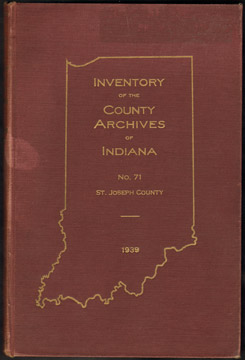 Inventory of the County Archives of Indiana No. 71: St. Joseph County
Published in 1939 by Indiana History Bureau
This is a listing of the types of archived records held by St. Joseph County (South Bend) as inventoried in 1935-36
Note: This a directory of what records the county held at the time of the inventory in 1935-1936; this book does not reproduce the records themselves. It is, however, a valuable guide to the immense variety of records that are available including many that are often overlooked by researchers.
This is an original 1939 printing. The covers shows some wear. Inside pages are nice and clean.
Hardbound, 248 pages with index
Speedy shipping!
We will ship your order within 24 hours of receiving your payment (on first business day if received on weekend or holiday.) Shipping cost is only $1.95 for the first book or CD/DVD and only 25 cents shipping for each additional book or CD/DVD purchased.
How to order:
Sorry, this book is sold
Additional printed County History books available
Thousands of free family biographies and vintage county maps are available