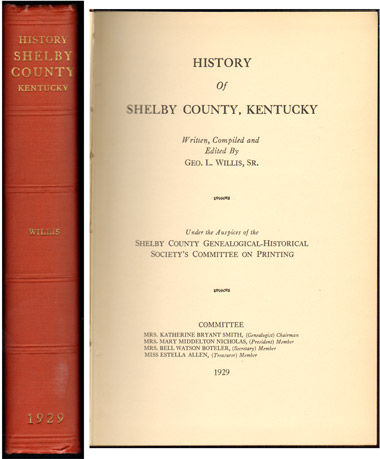 History of Shelby County, Kentucky
by Geo. L. Willis, Sr.
Published by Shelby County Genealogical-Historical Society
This is an original 1929 printing
Cover and spine show some wear, inside pages are nice and clean
Lots of history but only a few biographies of prominent persons
Many names are included in this volume
Includes a lengthy 1792-1795 First Tax List; Marriages from 1792 to 1800; List of Revolutionary War Soldiers; Names of early businessman
Hardbound, 268 pages plus several pages of photos on un-numbered pages
Speedy shipping!
We will ship your order within 24 hours of receiving your payment (on first business day if received on weekend or holiday.) Shipping cost is only $1.95 for the first book or CD/DVD and only 25 cents shipping for each additional book or CD/DVD purchased.
How to order:
Sorry, this book is sold
Additional printed County History books available
Thousands of free family biographies and vintage county maps are available