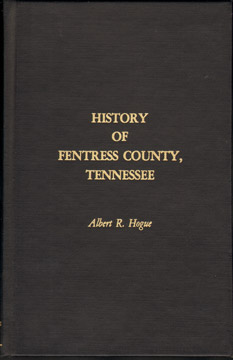 History of Fentress County, Tennessee
by Albert R. Hogue
Originally published in 1916, (1920 World War Memorial Edition) by Williams Printing Company, this is a 1975 reprint by Regional Publishing Company
Very clean, virtually the same as new. Has a name inscription on the copyright page.
Includes many historical photos and family history biographies.
Hardbound, 165 pages with index plus a 32 page supplement
Speedy shipping!
We will ship your order within 24 hours of receiving your payment (on first business day if received on weekend or holiday.) Shipping cost is only $1.95 for the first book or CD/DVD and only 25 cents shipping for each additional book or CD/DVD purchased.
How to order:
Sorry, this book is sold
Additional printed County History books available
Thousands of free family biographies and vintage county maps are available