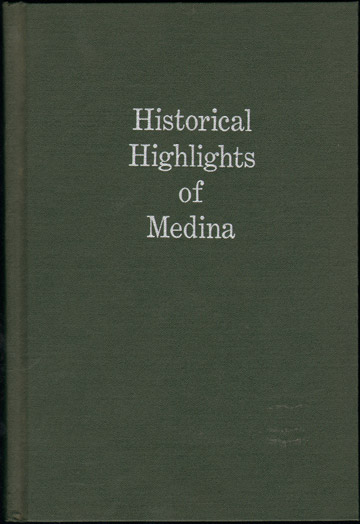 Historical Highlights of Medina, Ohio
Compiled by Students of the Class of 1966, Medina Senior High School, Eleanor Iler Schapiro, editor.

A well researched history covering the period from the first settlement to 1966.

Includes pioneer settlers, businesses, schools, churches, and historical buildings.

This volume does not include family biographies.

Published 1966 by Alfred Meyers Lithographers, Inc.

Cover and inside pages are very nice and clean.

Hardbound, 211 pages.
Speedy shipping!
We will ship your order within 24 hours of receiving your payment (on first business day if received on weekend or holiday.) Shipping cost is only $1.95 for the first book or CD/DVD and only 25 cents shipping for each additional book or CD/DVD purchased.
How to order:
Sorry, this book is sold
Additional printed County History books available
Thousands of free family biographies and vintage county maps are available