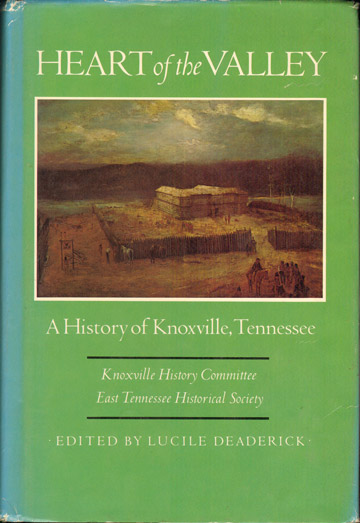 Heart of the Valley
A History of Knoxville, Tennessee
by Lucile Deaderick
Published 1976, by The East Tennessee Historical Society, Knoxville, Tennessee.
Former library book with markings. Dust jacket spine is faded and shows light wear, cover and inside pages are clean. Book has been little read.
A very detailed history of Akron and Summit County, Ohio from first settlement and continuing to the early 1950's.
Also included are biographies of many prominent Knoxville residents.
Includes numerous historical photos of buildings and scenes.
Hardbound, 701 pages with index.
Speedy shipping!
We will ship your order within 24 hours of receiving your payment (on first business day if received on weekend or holiday.) Shipping cost is only $1.95 for the first book or CD/DVD and only 25 cents shipping for each additional book or CD/DVD purchased.
How to order:
The book
described above is priced at $19.50 plus $1.95 shipping. If you wish to pay by credit card, please use the shopping cart below
(checkout goes to a secure server.)
Credit card orders may also be placed by phone to Hearthstone Legacy Publications from 9 AM to 11 PM (Central Time Zone) Monday thru Saturday at 816-204-7593.