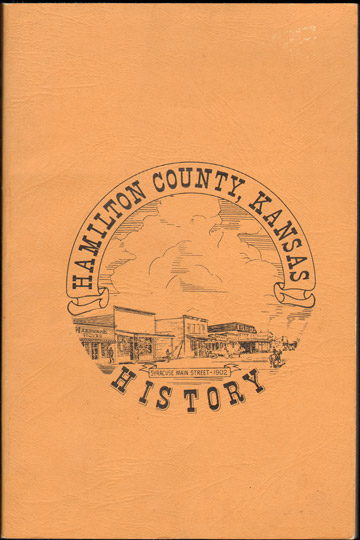 Hamilton County, Kansas History
Floyd Edwards, Editor.
Published in 1979 by the Hamilton County Historical Society, Syracuse, Kansas.
Includes history for the communities of Syracuse, Coolidge, Kendall, Hartland, Menno. Also includes history concerning Fort Aubrey, Trail City, early farming, Harvey House, World War II, schools, churches and more.

Cover has light wear, inside pages are very clean

Lots of early history for Hamilton County, Kansas
Includes some historical photos of early day Hamilton County, Kansas scenes, buildings, and persons.
Does not include biographies but does include mention of many names.

Soft cover, 164 pages.
Speedy shipping!
We will ship your order within 24 hours of receiving your payment (on first business day if received on weekend or holiday.) Shipping cost is only $1.95 for the first book or CD/DVD and only 25 cents shipping for each additional book or CD/DVD purchased.
How to order:
Sorry, this book is sold
Additional printed County History books available
Thousands of free family biographies and vintage county maps are available