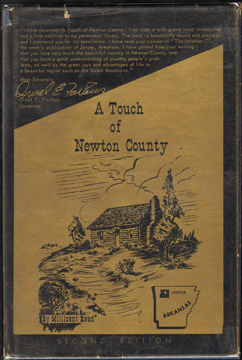 A Touch of Newton County (Arkansas)
By Millicent Read
Published by Harbor House Publishers, 1963, second edition
Overall clean and nice, hardly read. One page at back of book has a written note. Includes the rarely seen dust jacket which has a few small edge chips.
This copy is autographed by the author.
This book is a collection of newspaper columns by the author (who was originally from New England) who in a whimsical way, describes her impressions of living in Newton County, Arkansas.
From the forward: "This little book contains thoughts, facts, and dreams of Newton County, who, with her people, give beauty, peace, happiness and contentment unexcelled. It is written with the hope that it will scatter a Newton County welcome in such a way that it's readers cannot resist knowing and loving her does the author.."
This book does not include history or genealogy.
Hardbound with dust jacket, 96 pages
Speedy shipping!
We will ship your order within 24 hours of receiving your payment (on first business day if received on weekend or holiday.) Shipping cost is only $1.95 for the first book or CD/DVD and only 25 cents shipping for each additional book or CD/DVD purchased.
How to order:
Sorry, this book is sold
Additional printed County History books available
Thousands of free family biographies and vintage county maps are available