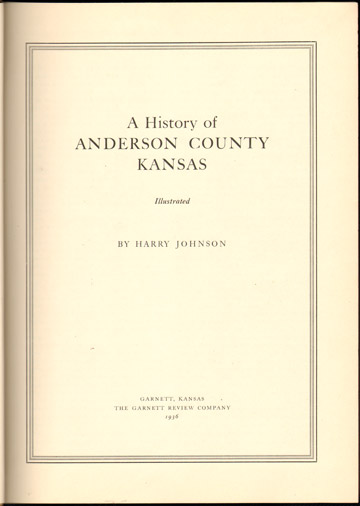 A History of Anderson County, Kansas

by Harry Johnson

Cover shows light wear. Inside pages are overall clean with an occasional ink mark. Name on flyleaf. Notes written on inside back cover.

The Garnett Review Company, this is an original 1936 edition.

This is a year by year chronology of Anderson County history beginning in 1867 and continuing until 1936 with an account of just about every news event in the county. Includes a few historical photographs.
This book does not include family biographies but does include many mentions of persons including marriage and death notices.

Hardbound, 383 pages
Speedy shipping!
We will ship your order within 24 hours of receiving your payment (on first business day if received on weekend or holiday.) Shipping cost is only $1.95 for the first book or CD/DVD and only 25 cents shipping for each additional book or CD/DVD purchased.
How to order:
Sorry, this book is sold
Additional printed County History books available
Thousands of free family biographies and vintage county maps are available