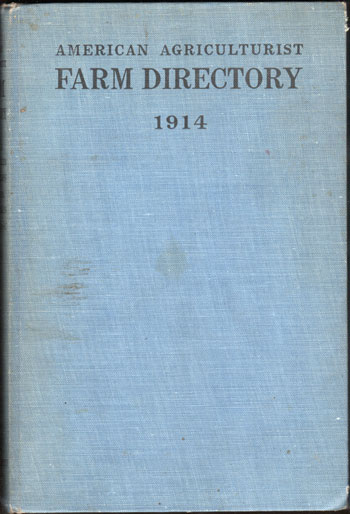 Yates, Schuyler, Tompkins and Seneca Counties, New York 1914 Farm Directory
Published by Orange Judd Company, New York, 1914.
Cover is worn. Inside pages are nice and clean. No map.
A directory of farmers in Yates, Schuyler, Tompkins and Seneca County, New York that includes the name of head of household, name of wife, occupation, number of children, and address.
Hardbound, 445 pages. Also includes numerous business ads.
Speedy shipping!
We will ship your order within 24 hours of receiving your payment (on first business day if received on weekend or holiday.) Shipping cost is only $1.95 for the first book or CD/DVD and only 25 cents shipping for each additional book or CD/DVD purchased.
How to order:
The book described above is priced at $36.95 plus $1.95 shipping. If you wish to pay by credit card, please use the shopping cart below (checkout goes to a secure server.) Credit card orders may also be placed by phone to Hearthstone Legacy Publications from 9 AM to 11 PM (Central Time Zone) Monday thru Saturday at 816-204-7593.
Additional printed County History books available
Thousands of free family biographies and vintage county maps are available