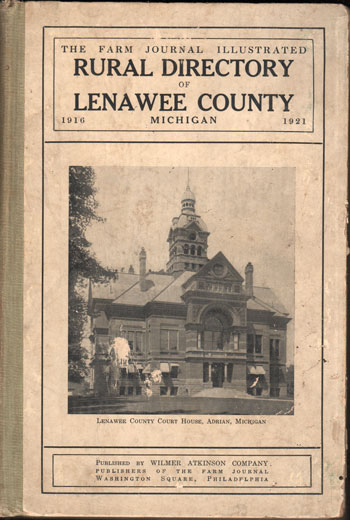 Lenawee County, Michigan 1916-1921 Rural Directory
Published by Wilmer Atkinson Company, Philadelphia, 1916.
Cover is worn. Spine is cracked. Inside pages are nice and clean. No map.
A directory of rural residents in Lenawee County, Michigan that includes the name of head of household, name of wife, occupation, number of children, and address. Includes the community of Adrian and numerous others.
Hardbound, 304 pages. Also includes numerous interesting business ads.
Speedy shipping!
We will ship your order within 24 hours of receiving your payment (on first business day if received on weekend or holiday.) Shipping cost is only $1.95 for the first book or CD/DVD and only 25 cents shipping for each additional book or CD/DVD purchased.
How to order:
Sorry, this book is sold
Additional printed County History books available
Thousands of free family biographies and vintage county maps are available