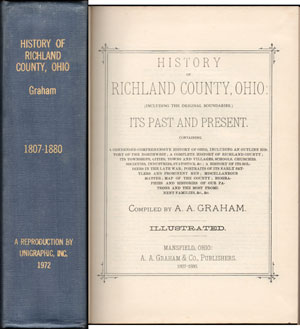 History of Richland County, Ohio
By A. A. Graham
Originally published in 1880 by A. A. Graham & Co., Publishers, Mansfield, Ohio. This is an 1972 reprint by Unigraphic, Inc.
Covers show light wear. Inside pages are very nice and clean.
A detailed history of Richland County, Ohio from 1807 and continuing to 1880.
Also includes a large number of family biographies.
Hard cover, thick volume of 941 pages with an additional 65 pages of indexed names.
Speedy shipping!
We will ship your order within 24 hours of receiving your payment (on first business day if received on weekend or holiday.) Shipping cost is only $1.95 for the first book or CD/DVD and only 25 cents shipping for each additional book or CD/DVD purchased.
How to order:
The book
described above is priced at $59.95 plus $1.95 shipping. If you wish to pay by credit card, please use the shopping cart below
(checkout goes to a secure server.)
Credit card orders may also be placed by phone to Hearthstone Legacy Publications from 9 AM to 11 PM (Central Time Zone) Monday thru Saturday at 816-204-7593.
Additional printed County History books available
Thousands of free family biographies and vintage county maps are available